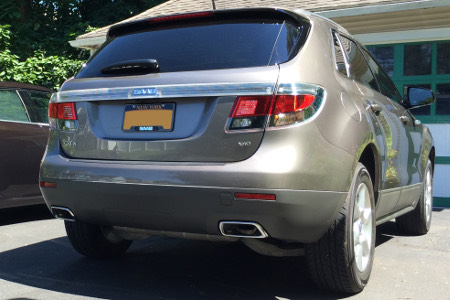 Prices are listed for several common Saab LED failures. All prices are estimates pending receipt and inspection of your taillights. We will also undertake repairs for any problems not listed. To arrange to fix your lights, contact us to estimate your cost and schedule your repair.
Turnaround time averages two days in our shop. All repairs carry a one-year guarantee. We now add actual shipping cost to your order so that you can choose the return shipping service that is right for you. Payment is required before your lights are returned to you. Credit card or PayPal accepted.
A $5 handling charge will be added to each order.
Due to the tight supply of used taillights, we do not currently have repaired units to exchange.
We are interested in purchasing used taillights and light bars in any condition. Please contact us if you have any used, non-functioning, or broken units.
Our shipping address is located in the "How to package taillights" document on the Contact page.
Problem
Solution
Estimated Price
9-3 SportCombi tail light LED
We can repair failed brake/tail LEDs in a 9-3 SportCombi tail light.
$159 per unit
9-4X Taillight LED "Eyebrow" Repair
The taillight LEDs often fail prematurely on 9-4X taillights. The car will not pass a safety inspection with these lights out. We will open the taillight, repair the LEDs, and reseal the taillight, restoring original function.
$259 per unit
9-5 Taillight LED Failure
If one or more LEDs have failed in your taillight, we will open the taillight and repair the affected lights.
$299 per unit plus part cost
9-5 Taillight Melted Housing
The halogen brake/turn light and high resistance in the socket can produce enough heat to damage the housing. We will permanently prevent this problem by bypassing the poor socket connection and converting the unit to a cooler-running LED. This is required if a new socket does not work.
$219 per unit plus replacement sockets if needed
9-5 Trunk Light Bar Failure
The LED light bar on the 9-5 trunk frequently fails. We can replace the circuit board with an improved version, repair the damaged LEDs, and reseal the unit.
$269 per unit
9-5 Third Brake light
Also referred to as the Center High Mount Stop Lamp (CHMSL or HMSL). We can replace the LED strip inside the housing with a more durable unit.
$189 per unit
9-5 Euro to US taillight conversion
We modify your European-spec taillights to plug directly into a US car-no wiring modifications, no error messages. Please note Euro taillights do not have side reflector or side marker lights and are not FMVSS approved in the US.
$249 per unit
9-5 Headlight mod
We can add the Aero LED light tube across the bottom of the headlight assembly.
$259 per headlight